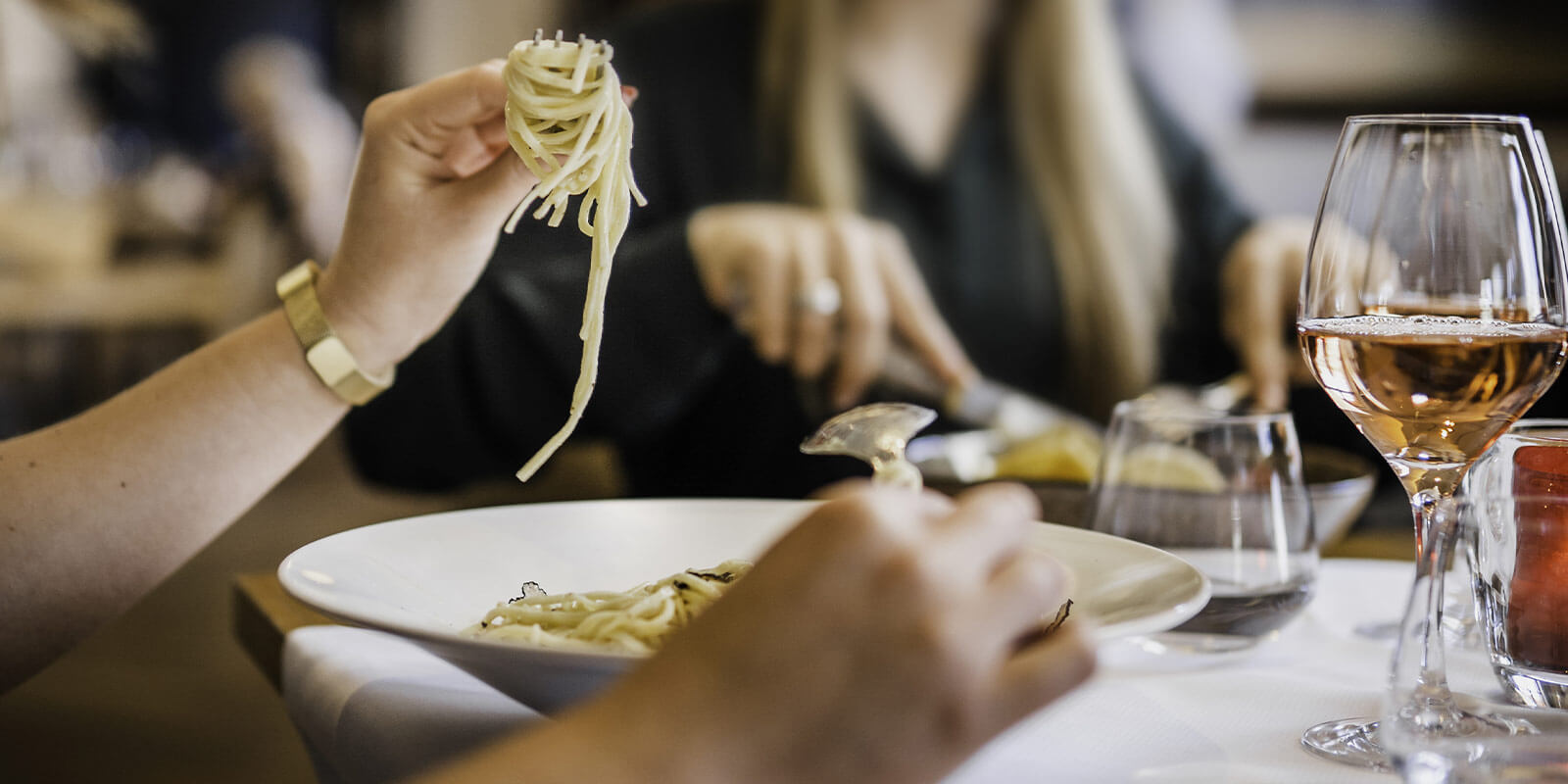 Our Chef
Great wine deserves to be paired with great food. Pick your favourite Italian dish crafted using premium ingredients by our talented Executive Chef who will bring their experience to your table so you can enjoy Italian food at its best.
Come and enjoy delicious food and fine wine, served with genuine Italian hospitality. Our expert team will take care of you and guide you through a journey of tantalising flavours.
Our Main Menu
Appetizers

FRITTURA DI CALAMARI E FRIGGITELLI, MAIONESE AI PEPI Deep Fried Calamari and Friggitelli, Peppercorns Mayonnaise

16

PUFFS DI GRANA PADANO, SALSA ARRABBIATA Grana Padano Puffs, Arrabbiata Sauce

13

BRESAOLA PUNTA D' ANCA, RUCOLA, AGRETTI AL LIMONE, FORMAGGIO DI CAPRA, NOCCIOLE Beef Bresaola Punta d' Anca, Rocket, Monk' s Beard, Lemon, Goat Cheese, Hazelnuts

19

Pasta

AGNOLOTTI AI FUNGHI SELVATICI CON CREMA DI PARMIGIANO AL TARTUFO NERO Wild Mushroom Agnolotti, Truffle Parmigiano Fondue

25

TONNARELLI ALLA CARBONARA Tonnarelli, Guanciale, Pecorino Romano Cheese, Italian Eggs, Peppercorns

19

GNOCCHI 100% PATATA, STRACCIATELLA, POMODORINI CONFIT, FUNGHI PORCINI 100% Potatoes Gnocchi, Stracciatella, Confit Tomatoes, Porcini Mushroom

27

TAGLIATELLE, RAGU DI CINGHIALE Tagliatelle, Wild Boar Ragu

24

TONNARELLI, PESTO DI PISTACCHIO, CARPACCIO DI GAMBERI Tonnarelli, Pistachio Pesto, Wild Prawn Carpaccio

28

Main Course

BISTECCA RIB EYE 280gr, CAROTA VIOLA, PATATE NOVELLE, SALSA AL VINO ROSSO Rib Eye Steak, Purple Carrot, New Potatoes, Red Wine Sauce

31

PETTO D'ANATRA, RADICCHIO TREVISANO, CROCCHETTA DI COSCIA D'ANATRA, PONZU, MANDORLE Duck Breast, Treviso Radicchio, Duck Leg Croquette, Ponzu, Almonds

28

HALIBUT, CAVOLO A PUNTA GRIGLIATO, AGLIO SELVATICO, SALSA ALLA NDUJA Halibut, Charcoal Hispi Cabbage, Wild Garlic, Nduja Sauce

32

RAVIOLI DI SEDANO RAPA BRUCIATO RIPIENI DI FUNGHI, ZUCCA, PORRI, LIQUIRIZIA Burnt Celeriac Ravioli, Mushrooms, Butternut Squash, Leeks, Liquorice

24

Side Dish

INSALATINA DI FINOCCHI, RUCOLA E ARANCE TAROCCO Fennel, Rocket, Blood Oranges Salad

6

ASPARAGI ALLA GRIGLIA, PICCANTINA DI ROMAGNA Grilled Asparagus, Piccantina di Romagna Chilli

7

PATATE NOVELLE SCHIACCIATE ARROSTO, ROSMARINO Roast Crushed New Potatoes, Rosemary

5

Dolci

Tiramisu Classic tiramisu cream, coffee, lady fingers biscuit

8

MERINGA MORBIDA, RABARBARO E PEPE ROSA Soft Meringue, Rhubarb and Pink Peppercorn

9

SEMIFREDDO AL MOU, CARAMELLO CIOCCOLATO, PEPERONCINO, LIME Milk and Caramel Parfait, Chocolate, Chilli, Lime

10
= Vegetarian = Allergen
Discretionary 12% service charge will be added to your final bill. All prices include VAT.
Please advise us of any allergy or dietary requirements before ordering.